Title: A Perfect Vacation
Pairing: Ron/Hermione
Word Count: 7,713
Rating: R
Warnings: Fluff. Themes of sexual nature. Mischievous whale.

Summary: Ron and Hermione go on a summer holiday with a very young Rose, but they swiftly discover the difficulties of doing so. Tensions run high and the vacation threatens to become a disaster, but an unlikely third party intervenes to make the vacation one Ron and Hermione would never forget.

A/N: Places and names of destinations, habits and descriptions of the humpback whales and spinner dolphins, and the history of their evolution briefly mentioned are all based in geographical and scientific facts. The only fictitious fact is the week-long whale-watching vacation tours, which, in fact, are not as of yet offered from the island of Kauai, and usually last at most a day.

Written for
butterfly_kate in a wonderful Ron/Hermione exchange community,
rwhgficexchange.

Awards: Nominated for THE GOLD STAR AWARD: Best Overall Fic and won THE "ONE AND ONLY" AWARD: Most Original.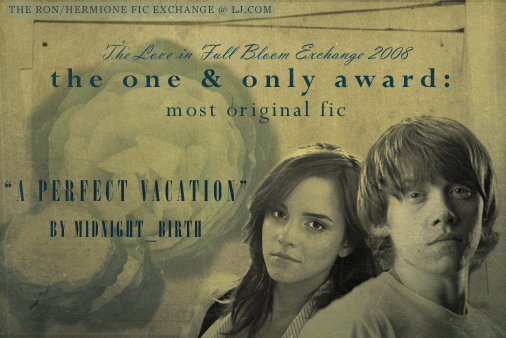 A Perfect Vacation

Like my fic? Join
margots_fic !
I now take requests